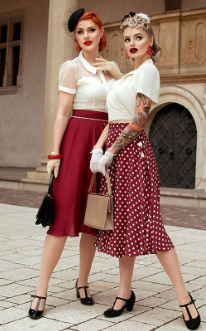 Vintage fashion has become increasingly popular in recent years as more people look to the past for inspiration and seek to incorporate classic styles into their modern wardrobes. Whether you're a fashion enthusiast or just looking for a unique addition to your closet, vintage fashion can offer a wide range of styles, fabrics, and cuts that are distinct from contemporary fashion.
The term "vintage" refers to clothing and accessories that were produced between the 1920s and 1980s. These decades marked significant changes in fashion, from the flapper style of the 1920s to the bold prints and bright colors of the 1970s. Each era has its own unique aesthetic that can be identified through key features such as silhouette, fabric, and embellishments.
One of the main reasons for the popularity of vintage fashion is the individuality it offers. Vintage clothing is often one-of-a-kind or produced in limited quantities, making it unlikely that you will see someone else wearing the same outfit. This level of exclusivity can make a statement and allow the wearer to express their unique style. Moreover, vintage clothing is often made with high-quality materials and craftsmanship, resulting in a piece that can last for years with proper care.
Another reason for the appeal of vintage fashion is the sustainability factor. The fashion industry is a major contributor to environmental pollution and labor exploitation, and buying vintage clothing is a way to reduce your carbon footprint and support ethical consumption. By purchasing vintage clothing, you are keeping garments out of landfills and reducing the demand for new clothing production, which can be a wasteful and environmentally harmful process.
There are many ways to incorporate vintage fashion into your wardrobe. You can mix vintage pieces with contemporary ones for a modern take on a classic look. For example, pairing a vintage silk blouse with a pair of skinny jeans and ankle boots can create a stylish and eclectic outfit. You can also go all out with a full vintage look, such as a 1950s swing dress or a 1970s jumpsuit. Accessories are another way to add vintage flair, such as a beaded clutch from the 1920s or a pair of cat-eye sunglasses from the 1950s.
When shopping for vintage clothing, it is important to keep in mind that sizing and fit may be different from contemporary clothing. Vintage clothing is often sized differently and may require alterations to fit properly. It is also important to inspect garments for any signs of wear or damage, such as holes, stains, or tears. While these imperfections can add character to a vintage piece, it is important to ensure that they can be repaired or do not affect the overall quality of the garment.
In conclusion, vintage fashion offers a unique and sustainable alternative to contemporary fashion. With its individuality, quality craftsmanship, and historical significance, vintage clothing can add character and personality to your wardrobe. Whether you're a seasoned vintage shopper or just starting out, incorporating vintage pieces into your wardrobe can be a fun and creative way to express your personal style.