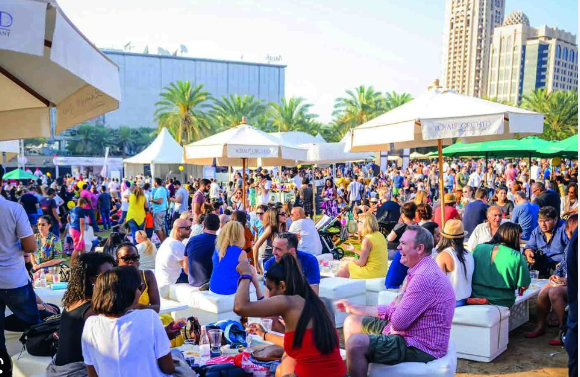 Taste of Dubai is an annual food and beverage festival held in the city of Dubai, United Arab Emirates. The event brings together some of the region's best chefs, restaurants, and food brands to showcase their cuisine and products to a diverse audience of food lovers and culinary enthusiasts.
The festival takes place over three days and features a range of activities, including live cooking demonstrations, interactive workshops, and opportunities to sample a wide variety of dishes and products from some of the region's top restaurants and food brands.
One of the highlights of the festival is the presence of celebrity chefs, who come from all over the world to showcase their skills and interact with festival-goers. Past celebrity chefs who have appeared at the festival include Jamie Oliver, Gordon Ramsay, and Gary Rhodes, among others.
In addition to the live cooking demonstrations and workshops, Taste of Dubai also features a range of other activities, including live music performances, cocktail-making classes, and a range of gourmet food and beverage offerings.
The festival provides a unique opportunity for visitors to sample a wide range of dishes and products from some of the region's top restaurants and food brands. Visitors can taste everything from traditional Emirati dishes to international cuisine, and they can purchase a range of products, including specialty foods, wines, and spirits.
The festival also plays an important role in promoting the region's growing culinary scene and has helped to establish Dubai as a leading destination for food and beverage tourism. The event attracts thousands of visitors from around the world each year, many of whom take advantage of the opportunity to explore Dubai's many attractions and experience its unique blend of cultures and traditions.
Overall, Taste of Dubai is a must-see event for food lovers and anyone looking to experience the region's vibrant culinary scene. With its diverse range of activities, top-class chefs, and wide variety of food and beverage offerings, Taste of Dubai is an event that should not be missed.